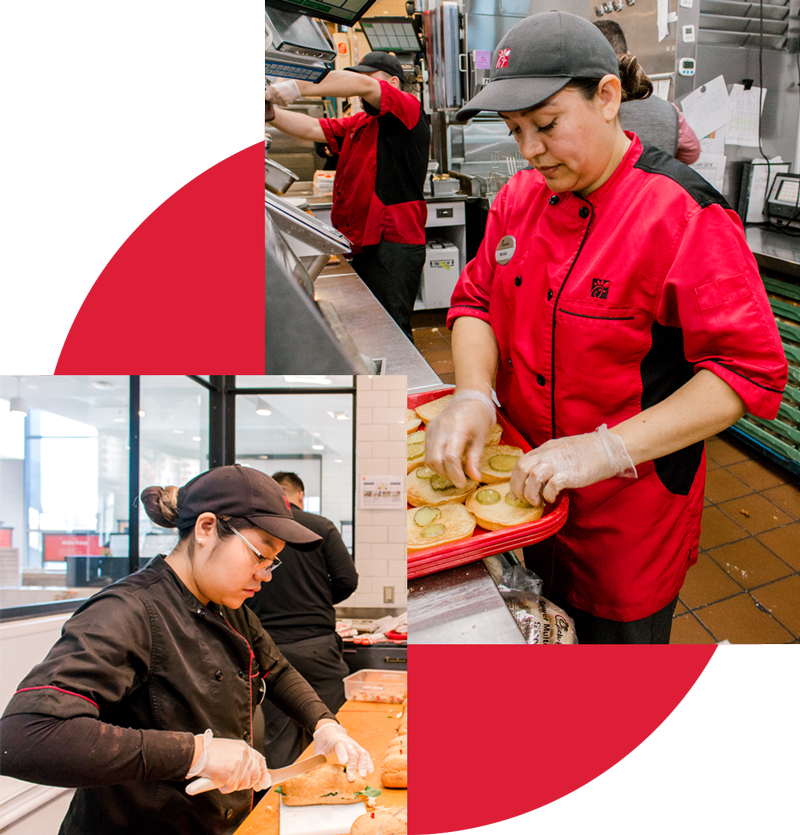 KITCHEN TEAM MEMBERS
We love our Kitchen Team! Our Kitchen Team Members work at a quick pace, ensuring the consistently fresh and delicious food Chick-fil-A fans have come to know and love.
Individuals that thrive working in our Kitchen are comfortable working shoulder to shoulder with their team in a very fast paced environment. They pay great attention to detail by following recipes, preparing orders accurately, and keeping a clean and safe work station.
IDEAL CANDIDATES
Have a passion for excellence and serving others.
Desire to have a positive influence on all they come in contact with.
Believe every person deserves to be treated with honor dignity and respect.
Work with a sense of urgency in a fast paced environment.
Enjoy working side by side with a team.
Want opportunities to grow, learn, and advance their career.
COMPETITIVE PAY & BENEFITS
$13-15 per hour (rate based on employee availability)
Uniforms & Shoes Provided
Free Shift Meals
401k
Paid Time Off
Health & Life Insurance Options
Leadership Development
College Scholarships
Longevity Incentives
Flexible Schedule
Central Location
Sunday's Off — We're Closed!
JOB REQUIREMENTS
Must be authorized to work in the United States
Must have reliable transportation
18+ years old
Willing to undergo a background check
TYPICAL DAYTIME SHIFTS
5:00 am – 2:00 pm
6:00 am – 2:00 pm
7:00 am – 2:00 pm or later
8:00 am – 2:00 pm or later
9:00 am – 4:00 pm or later
TYPICAL EVENING SHIFTS
2:00 pm – 8:00 pm or later 
3:00 pm – 9:00 pm or later
4:00 pm – 10:00 pm or later
5:00 pm – 11:00 pm or later (closers typically leave around midnight)